The Garden of Kindness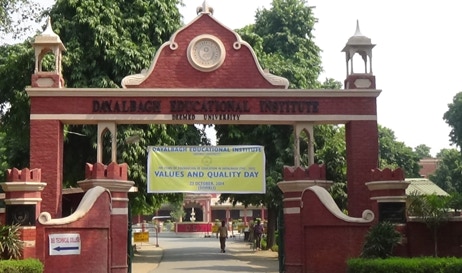 In Agra, we lived several miles from the city in a beautiful self contained community called Dayal Bagh, literally Garden of the Merciful, but I would call the Garden of Kindness.
​
Dayal Bagh was developed by people who believe in an offshoot of Hinduism called Satsanghis (those who keep good company). Their principles were of simple living, vegetarianism and no distinction of people by race, class or religion. We were one of the few people there who were not a part of their group but we were always treated with kindness and courtesy.
​
​
​
​
​
It was like a large gated community with a guard in the front, a small store, a little restaurant and a gathering place where they could hear their Guru speak every evening. We lived in an area called Prem Nagar, literally City of Love, in a home with a nice veranda and blooms of Rangoon creepers, Morning Glory and Gloria vines.
By Prenn - Own work, CC BY-SA 3.0, https://commons.wikimedia.org/w/index.php?curid=21043115
My husband was a professor of Mechanical Engineering at Dayalbagh Educational Institute which was associated with Agra University. On our first day there arriving from the train station, we were invited to lunch by our neighbor across the street, a colleague of my husband, Ragubir Singh Metha.
​
Mr. Metha was a widower with six children four of them girls, who immediately put me at ease by telling me I was like one more of his daughters and that my Hindi would soon get better. In no time we were laughing and having what for me was the new experience of a lunch of Roti and Sabji.
​
After lunch I was persuaded to stay behind by the girls who were excited to find out that I could sing many Hindi movie songs, including those of the very popular Latha Mangeshkar. We all became very good friends and as I got to know their friends and relatives, the girls would always introduce me as the Madarasi (meaning a girl from South India) who could sing Hindi songs so well.
​
So I began my new life far from home but with new friends and adventures.